So this week we have had an extremely busy time getting ourselves prepared and organised for some of the weddings that we have booked this year. Although it is half term and we have staff away on holiday… and an extra day off for me to look after my little boy "Solly" … which entailed echoey indoor play areas with really naff food… (what's all that about?) Sometimes for your own sanity, you have to take the good with the bad…! (a couple of hours of peace versus limp lettuce, microwaved lasagne & piece of garlic bread that's never seen an oven…) Solly loved the play area and that's all that matters…
We hosted 5 couples over the course of the weekend to come and experience an evening at Paisley Flour and to come and "Taste" their menu choices and ideas we have put forward for them.
WOW… I find these sessions equally as exhausting as the event!! … lol! Myself and the team put so much thought, time and effort into each experience as I believe that whether you're a couple getting married, private party at your home or a corporate event it is ABSOLUTELY invaluable to come and taste, meet & experience us at Paisley.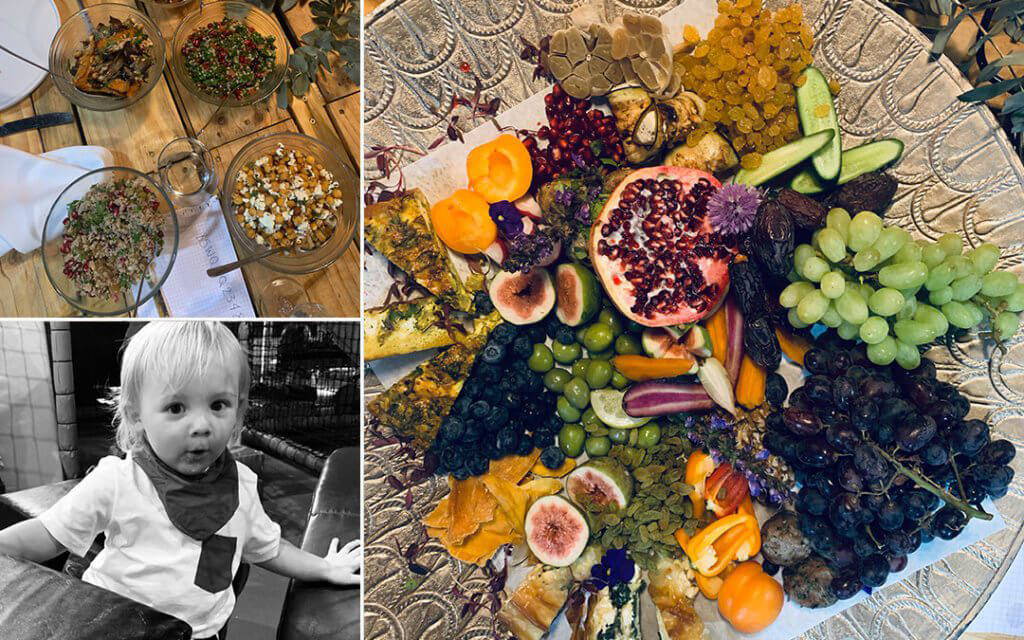 So I will let some of my secrets out now… I have an absolute love for middle eastern food and one of my favourite chefs ever is Yotam Ottolenghi. My goodness me! I cannot get enough of this man's cuisine, style and passion. The flavours of his food, the presentation and colour to me is just divine. So when I had a couple approach me from London and ask if I could create them a Middle Eastern inspired Wedding Breakfast, I think I nearly exploded with excitement!!!!! This is me and my love through and through and I believe this is an up and coming style of catering which over the next few years will start to take the wedding industry by storm. So look out 2020/21 .. I think it may be on the verge to become a little more popular … (which is fine by me!).
Some of the menu items were Lamb Shawarma, Baharat & Lemon Spiced Lamb Rumps, Proper Homemade Hummus, Labneh, Tabbouleh, Burnt Aubergine w/ Garlic, Lemon & Pomegranate. A Middle Eastern inspired edible centrepiece and some desserts of Cardamon & Vanilla Panna Cotta & Fig, Honey & Pistachio Cake.
(Yes.. this was just one couple) they certainly got a feast! The groom's words were "I feel like an Emperor" – now this is what we want when we are going to be creating their wedding food and another reason why I absolutely love what I do.
 Also on Saturday, we got to meet a couple which is getting married in August, they wanted an English/Polish influence through their wedding food as the bride is Polish and they both absolutely love the traditional style of some of the Polish dishes. So we happily created a feast which compliments the grazing tables that many Polish weddings have. We incorporated smoked meats, cheeses, breads, pickles… and more and more delicious grazing items. They wanted this to follow their Black Tie wedding after their 3-course meal which includes lots of VODKA!!!! (I secretly wish I was invited…!)
So this was just two couple's which we had the pleasure of welcoming on Saturday. Both were so very happy that they had taken the time to come and meet us and experience a tasting session, and so were we as both had driven up from London specially.
When planning your wedding or special event we would say that having a tasting session is not recommended its ESSENTIAL! Your big day flies by so quickly so you get the chance to experience your food under no pressure, you leave us feeling.. overwhelmingly full!! And it takes soooooo much stress out of the day, you also may meet other couple's which have similar ideas you can share with. Equally, we know that your happy with what we will deliver to you on your special occasion and rest assured that you will receive the Paisley Flour experience.
Now on to Fish and Chips by the River with Sol & Izzy
 Hope you have a fabulous weekend.