Well, that was a wet one….!!!!!
We had the pleasure of being invited to cater for the most fabulous wedding at the exclusive house, Whitmore Hall in Staffordshire this last weekend.
Whitmore Hall has been in the same family for over 900 years, descendants of the Normans, the house is a fine example of the late 17th and early 18th centuries. They only host 2/3 weddings a year so it really is a special venue (if you can manage to get booked in!!).
To set the scene we all arrived at the grand hall, Freddie, Mary & even Priscilla… it was a steady journey, to say the least, and the roads were all a little flooded but we all got there in one piece on the Friday afternoon, my trusty team had already been on site setting the tables for the 150 wedding guests.
The Bride & Groom had decided on a dusty pink colour theme & treated themselves to Gold beaded charger plates, gold cutlery & gold rimmed glassware, thanks to Tipples Bar and Hire & Sam back at the office for arranging it all a little last minute… wow, what an impact this makes to your table. It was just beautiful…!
We always arrive the day before all of our weddings, we like to set up everything, check everything is working & it is all just so… this just makes the main job on the day go that bit smoother. If we need to get anything (or forgotten anything!!) we know sooner rather than later.
Me, the chefs then got "Freddie, Mary & Priscilla" set up and settled for the evening. Freddie has become an invaluable part of the team, he became part of our crew last year and we don't know how we did it without him, having a full refrigerated vehicle onsite is essential and makes our job a lot easier!!!!
We then checked into our B&B, a quick change and then a meal with a debrief for the following day. I absolutely love having a night away…. especially before a wedding, it's essential that we all get a good night's sleep a meal with a good breakfast. This then sets the kitchen team up for a very long day. Its great team building & a massive relief that we don't have to get up at 5.30am to start an 18hr shift…. (there have been many of these over the years!!!!). We also have a great laugh which helps when you have a busy day the following day. In the words of Chef Andy… "There is no I in the word TEAM" … lol!!!!!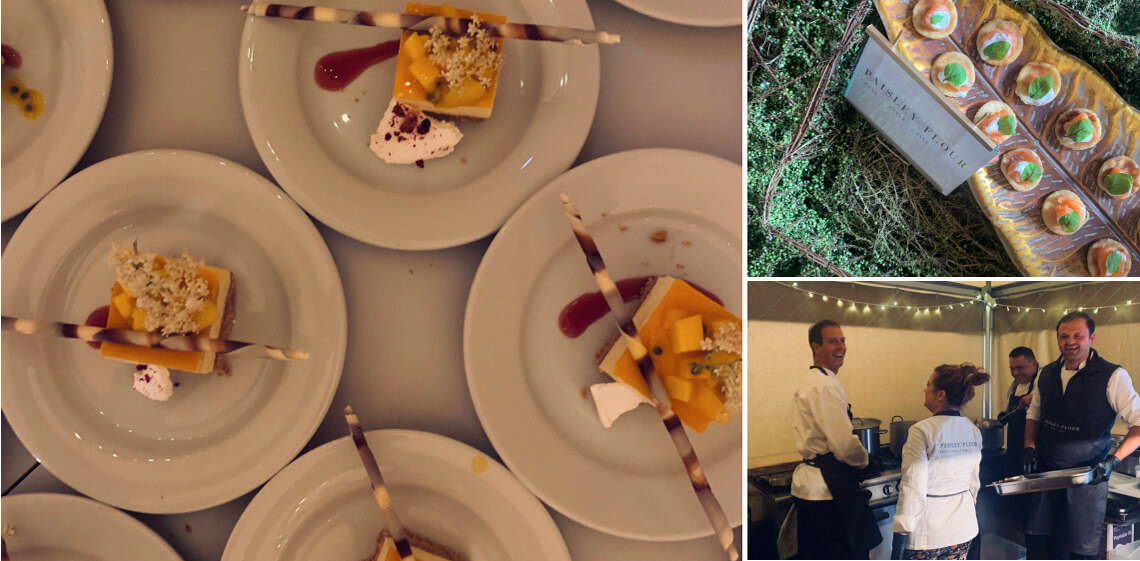 On to the big day…
after a Full English to get us warmed up we left the hotel ready for the day ahead… we couldn't help ourselves but have a little forage on the way… we saw some beautiful elderflowers and couldn't resist thinking how beautiful it would look on our dessert & in a few G&T's on the bar…!
The day just flies by…. After sending out Canapés on some of our new platters it was time for their wedding breakfast. To Start, Plum Tomato, Avocado & Chorizo Tart, The Main Course, Saffron Marinated Chicken w/ New Potatoes & Herb Salad, the Naughty bit was Mango & Passionfruit Cheesecake (a personal favourite!).
Dietary Requirements…! Making sure all of your guests have given you their requirements is essential. Giving us your table plan with where everyone is seated is very important …oh & don't change it…!! (believe me, this has happened before!!!).
Luckily the rain had stopped for people to come & get their Pizza's from our Wood Fired Oven "Priscilla" our new addition this year. The Pizza's that come out of here just cannot be described, they just taste AMAZING!!!! The oven was built locally in Worcestershire by a good friend, business mentor & inventor!! Jay Emery @ Bushman Wood Fired Ovens. They are the BEST Wood fired ovens you can buy, and Jay is an amazing guy too!
By Midnight the majority of the staff have gone home…. With a last push, the rest of us pack down & head back home for a very late night. Me & Andy touch base at HQ at 3.30am & unload to the rising of the sun……
Priscilla:
Bushman Wood Fired Ovens
Flowers:
Floral Designs by Clare